---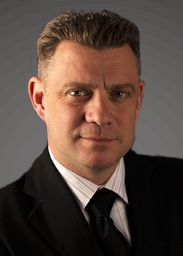 Captain (N) E.G. Forward
CEO / Commandant – Commissionaires Newfoundland and Labrador
In 2019, Captain (N) E.G. Forward was appointed CEO of Commissionaires, Newfoundland and Labrador.
Captain (N) E.G. Forward, a highly accomplished military professional, brings over 30 years of military, leadership, and executive experience to the role of CEO with Commissionaires Newfoundland & Labrador.
Captain (N) E.G. Forward served with the Royal Canadian Navy, gaining extensive experience in budgetary, financial and resource allocation, strategic communications, and progressive leadership. He served in command at various levels, in postings including the Director of Military Pay and Allowance Processing, Military Personnel Command (Ottawa); Staff Officer, Strategic J4, Strategic Joint Staff (Ottawa); Commanding Officer, Formation Logistics (Halifax); Task Force Commander, Operation Saturn (Sudan); and Executive Assistant to the Assistant Deputy Minister of National Defence – Finance (Ottawa).
For his service, Captain (N) E.G. Forward has received the Sacrifice Medal; Southwest Asia Service Medal with Afghanistan Bar; Special Service Medal with NATO, Humanitas, Alert Bars; Canadian Peacekeeping Service Medal; United Nations-African Union Mission in Darfur Service Medal; Canada 125 Medal; Queen's Jubilee Medal; and Canadian Forces Decoration with Bar.
Captain (N) E.G. Forward is a graduate of the College Militaire Royal de Saint Jean, as well as the Royal Military College of Canada where he received both a Baccalaureate in Arts and a Masters in Defence Studies. He is a Certified Supply Chain Professional and has recently completed the Royal Military College of Canada's Canadian Security Studies Programme. He is an accomplished writer, having published numerous articles and papers, as well as a novel, Pomeroy's Quay, a copy of which resides in the Princess Royal's personal library.
---

RCMP Superintendent (Ret'd) Leo O'Brien
Director of Business Development, Client Relations and Investigative Services
Commissionaires Newfoundland and Labrador
Leo was born and raised in L'anse-au Loup, Labrador. He graduated from Our Lady of Labrador School in 1971 and went on to attend Memorial University of Newfoundland and Labrador (MUN). He completed three of four years of a Bachelor of Arts (Education). In 1974/75 and 75/76 he taught school at Our Lady of Labrador School in West St. Modeste , Labrador.
Leo joined the Royal Canadian Mounted Police (RCMP) in 1976 and completed his basic recruit field training in Regina, Saskatchewan. His first posting was in Labrador City, followed by  Harbour Grace and Baie Verte, NL where he did General Duty policing, along with Highway Patrol and Court Liaison. In 1988 he was promoted to Corporal and transferred to Commercial Crime Section ( CCS) in St. John's where he worked as an investigator, investigating major frauds and bankruptcies. While working at CCS he returned to MUN and completed his Bachelor of Arts degree with a major in Business and Economic Geography and Minor in Psychology. He also obtained a Diploma in Business Administration and a Diploma in Criminology from MUN in 1992.
In 1993, Leo transferred to Marystown, where he worked as a team leader for the next 18 months. In 1994 he was selected as the representative for Newfoundland and Labrador to go to Ottawa for three years as part of the Headquarters Familiarization Program. While in Ottawa he worked in various directorates, gaining experience in the administrative side of the RCMP. He also attended French Language training for nine months.
In 1997 he returned to Holyrood, NL as a Team Leader, following which he was in charge of the General Investigative Section for Avalon East District of the RCMP. In 1999 he was promoted to Sergeant and returned to Commercial Crime Section as Team Leader. During the next two and a half years he was the Team Leader for both the Provincial Section and the Federal Section of CCS. During this time he investigated and supervised the investigation of some major/complex frauds and bankruptcies.
Leo was commissioned and promoted to the rank of Inspector in 2001 and for the next two and a half years worked as a Travel Officer at the Prime Minister's Protection Detail in Ottawa. During this time he was responsible for providing the security for Prime Minister Chretien and Prime Minister Martin and their spouses when they travelled nationally and internationally. In 2004 he was transferred and became the Director of the Violent Crime Linkage Analysis Section (ViCLAS), a computerized system for linking serial offenders. While in charge of this program Leo developed and signed ViCLAS Licensing Agreements with nine other countries and saw the compliance rates for submission of cases go from 62% to 98%.
In 2006 Leo was promoted to Superintendent and became the Director General of the Behavioural Science Branch of the RCMP. In this position he was responsible for the Polygraph Program, ViCLAS, The National Sex Offender Registry, Criminal and Geographic Profiling and Research and Development. Leo held this position until his retirement from the RCMP in October 2012. During this time Leo played an instrumental role in having legislation passed to strengthen the National Sex Offender Registry.
Leo is married to his wife Grace of 35 years and they have two adult children, Steven and Sonya, son in law Glen, and a lovely granddaughter Nora. Leo and his wife enjoy the outdoors and stay fit by hiking, snowshoeing and walking. They also enjoy travelling.
---
Bruce Vey, PhD, MEd, BSc, BEd
Director of Operations and Training
Commissionaires, NL Division
Dr. Bruce Vey is a former educator and administrator with thirty years of experience in the field.  He began his teaching career in 1983 at King Academy in Harbour Breton, Newfoundland and after several years moved to Grand Bank where he taught high school science and mathematics for three years at Fortune Collegiate, Fortune.  In 1987, Dr. Vey accepted a position as Science and Mathematics Program Specialist with the Labrador East Integrated School Board in Happy Valley-Goose Bay, NL.   In 1996, he was appointed school principal for Goose High School, and held that position for six years until its closure in 2002.  Subsequently, Dr. Vey was appointed as school principal of Mealy Mountain Collegiate, Happy Valley-Goose Bay.  During his tenure as school principal, he very successfully promoted and expanded the Student Achievement and Awards Program through canvassing the business community and various services organizations within the area. After ten successful years as school principal, he was appointed CEO/Director of Education for the Labrador School Board and held that position until 2011.
After living in Goose Bay, Labrador for twenty –four years, Dr. Vey accepted an appointment as Assistant Director of Programs for Eastern School District in 2011.  As the Assistant Director of Programs, Dr. Vey was responsible for the implementation of the District's Student Assessment and Evaluation Policy.  He created an advisory committee comprised of teachers, school principals, and district staff to successfully achieve this goal.  By working with all stakeholders including union representatives, Dr. Vey and his committee provided professional development training during school close-out sessions to all teachers within the school district.
In June, 2012 Dr. Vey was appointed to the position of CEO/Director of Education for Eastern School District and held that position until school board consolidation took place in September 2013.  Eastern School District based in St. John's was the largest school district in the province of Newfoundland and Labrador with 119 schools, 4000 employees and approximately 42.000 students.  As CEO/Director of Education, Dr. Vey was responsible for the day-to-day operations of the school district and the financial and fiscal management of a 400 million dollar annual budget.
Dr. Vey holds a PhD in Educational Administration—Leadership and Policy Studies from the University of Toronto.  He obtained a Masters Degree in Education and two undergraduate degrees, Bachelor of Science and Bachelor of Education from Memorial University of Newfoundland.
Dr. Vey was born in St. John's and grew up in Newfoundland.  He thoroughly enjoys outdoor activities including hiking, big game hunting and recreational salmon fishing.  In more recent years he has been trying to improve his golf game.
Dr. Vey currently resides in St. John's with his wife, Celeste and he has one son, Joshua.
Dr. Vey states, " I am looking forward to working with the Commissionaires, NL Division and being a part of a team that promotes and supports its members while maintaining those high standards and values that the Commissionaire have earned over the years."
---

Ms Anastasia Gibbons
Director of Finance and Administration
Commissionaires Newfoundland and Labrador
Anastasia began her career in the Canadian Armed Forces as an Air Frame Technician.  After serving 3 years, she moved to Calgary and joined the Commissionaires, Southern Alberta Division where she worked for 2 years in the security industry.
She moved back to Newfoundland and starting working with the Commissionaires, NL Division, at St. John's International  Airport and then transferred to Division Headquarters.   She began as the office clerk, then moved to the position of accounting and payroll clerk.  She was promoted to Division Comptroller in 1992.
She played a major role in taking the Division from a manual payroll and accounting system to a fully computerized one.  She was again promoted to Director of Administration and Finance in 2005, and still holds that position today.  She is the Health & Safety Office for the Division as well as the ISO Quality Coordinator.
She is the recipient of the Commissionaires Long Service Medal and the Distinguished Service Medal.morey